The Field Mice - Where'd You Learn to Kiss That Way?
Om du liker Belle and Sebastian, må du ha dette bandet i samlingen din. De er übersøte.
Allmusic
sier:
With their shimmering guitars, indelible melodies, lush arrangements, and Bobby Wratten's heartbreaking songs, in retrospect the Field Mice now seem like the missing link between the Smiths and Belle & Sebastian -- at their best they achieve the same kind of pop transcendence, spinning tales of love and loss with an elegance and grandeur that are often breathtaking. (...) No longer lost, the Field Mice were simply a great pop band, and with Where'd You Learn to Kiss That Way?, their music might finally reach the wide audience it so richly deserves.
Du kan lese hele anmeldelsen, og få en smuglytt på de forskjellige sangene
her
***
Lacrosse - This New Year Will Be for You and Me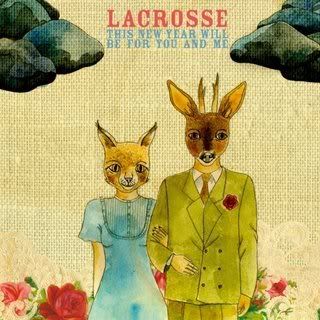 Om du liker I'm From Barcelona er det sannsynlig at du liker dette albumet og dette bandet, imo.
Dotshop
sier:
Sweet lovely happy singalong pop.
Lacrosse is the national game of Canada. It is also the hometown of serial killer Ed Gein. But above all, Lacrosse is five boys and one girl making fantastic pop music. From a basement in Stockholm, Lacrosse brings you love and happiness in songs so catchy that you can't help singing along!
With a lot of energy, two intense lead vocalists, incredibly sweet guitar melodies and blazing drum beats, Lacrosse is the musical equivalent of endless summer nights when the world is young and beautiful and everything seems possible.
Myspace
Soundsxp
(anmeldelse)
***
The National Lights - The Dead Will Walk, Dear
Lisa
sier:
Jeg elsker dette albumet, og jeg har seriøse problemer med å velge en favorittsang. Om du ser etter rolige sanger, med vakker gitarspilling, og en stemme som vil smelte sjelen din, er dette albumet for deg. Albumet heter "The Dead Will Walk, Dear," og alle tekstene handler om død, om lik, og kan kanskje til tider være litt morbide. De litt disturbing tekstene utfylles av at Jacob Thomas Berns som synger på vokal, innimellom akkompagnert av Sonya Maria Cotton.
Perfekt til sene kvelder, om du føler deg litt trist, om du vil slappe av, eller om du bare er i humør for å høre på noe som ikke er så upbeat.
Anmeldelser:
Pitchfork
Foxy Digitals
PlugInMedia
Hjemmeside
Myspace